Events
Anime-ZAP! features over fifty different events every year, with hundreds of attendees joining us in our celebration of fandom. Anime-ZAP! is proud to feature more events than most other conventions in the area.

Grand Cosplay Contest
Our grand cosplay contest, aka the Masquerade, will be a fun chance to show off your costumes and hilarious or creative skits. Join in giving the audience an awesome show, or come be that audience. Participants sign up near our registration desk at the con.
Learn More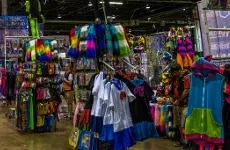 Exhibit Hall
Our exhibit hall includes a ton of awesome anime, video game, and manga dealers, in addition to several awesome artists who are selling their original artworks, buttons, and other creations. Dealers will be selling everything that a fan could want including costumes, pocky, DVDs, plushies, and beyond.
Epic Rave Dances
Our guest DJ lineup features a collection of distinguished and electrifying talents, including the likes of Greg Ayres and YTCracker, among others. These virtuosos are poised to set the stage on fire with an adrenaline-infused selection of EDM. Forget about bad transitions and little bass, we're talking about a non-stop, pulse-pounding journey through the best of Jumpstyle, Hardstyle, Techno, Trance, House, Drum and Bass -- whatever the audience can groove to. Rest assured, there won't be a moment's lapse, and the quality of our DJs is uncompromising.
Video Games
Our video gaming area features 32" LCDs screens and more, with video gaming tournaments happening all weekend. We also have table top board games, card games, Magic, etc.
Formal Fantasy Cosplay Ball
As a special treat, our convention holds an annual formal fantasy ball every year. Admission is free to all convention attendees with their badge/wristband. In addition, we will have professional formal dance lessons before the event begins, taught by an experienced dance instructor. For those without dates, we will even have our very own Date Auction on Friday afternoon, before the ball. Semi-formal outfits and above required for this exciting featured event.
Our Fabulous Date Auction
Unlike any other convention (except our own conventions), this Fabulous Date Auction is your chance to win a date to the formal ball.... or several, if you're greedy. Join our sexy 25-con veteran host emcees as they auction off fellow cosplayers to the highest bidder. Money goes towards improving the con, and 10% of all winning bids is donated to charity.
Concerts
Anime-ZAP! features epic concerts every year including fantastic guests playing everything from anime theme song covers to unique shows filled with noir, rock, and tremendous energy. Everything about Anime-ZAP!'s concerts is awesome.
Panels
Anime-ZAP! has tons of panels, submitted and created by attendees like you. Talk about favorite shows, compete in homemade game shows, learn stuff, and more! Everything you love, from Lolita and Dolls, to Homestuck and Pokemon, we'll have it. Want to run a panel? Go to the event submission form.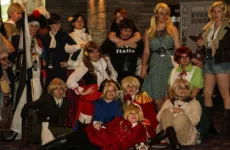 Cosplay
We are excited to feature tons of cosplay events, in addition to the mainstage masquerade cosplay competition, including photoshoots, meetups, panels, and much more. There are usually panels covering things like Cosplay 101, wigs, lolita fashion, and beyond.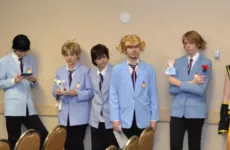 Meetups
Meetup with people who like the same stuff as you. Whether it's Ball Jointed Dolls, Lolita Fashion, Kingdom Hearts, J-Pop, or whatever, you'll make friends here.
Over 65+ events total.
There are also numerous panels and events not listed here happening at the convention, ranging from panels to demos to workshops. Please check out our website regularly so that you can find a more complete list when we post our program guide closer to the convention.
Cosplay Events and Contests
Our cosplay contest is an exciting on-stage showing of your favorite cosplays and costumes. We have a massive stage and great lighting to make your cosplay look neat. Almost half our attendees are cosplaying all weekend, in character.
Dances and Entertainment
We have techno/rave dances every night, with DJs who know their stuff. We also have some awesome, entertaining panels, events, and programming.
Interactive Events
We have special events and workshops all weekend. These range from hosted games like Death Note Mafia, discussions on designing fashions, to our formal dance complete with formal dance lessons.
Panels And Stuff
We have several dozen panels every year on your favorite topics. Whether you love Homestuck or Death Note, we'll have some kind of panel or event for your favorite fandom.
More Of Our Panels
These are just some of the panels we have had at past Anime-ZAP! events. More are added as attendees and special guests submit their own panels and events. Scroll to the top for information about the full schedule!
Mainstage Cosplay Contest
Date Auction
Fantasy Cosplay Ball
Anime Rave Dances
Fashion Show
Formal Dance Lessons
Kingdom Hearts Panel
Dante's Guide To Picking Up Women
Origami Related Panels
Con Survival Guide Panels
Video Game Panels
Lolita Fashion Panels
Learn the Hare Hare Yukai
Fanfiction 101
Ponies!
Mock-Combat Battlefield
Square Enix Pairings
Yuri/Yaoi Panels
AMV Tutorials
Old School Anime
Ball Jointed Dolls Discussion
Japanese Ghost Stories
Crossplay Both Ways
Various Anime Screenings
Various Gaming Tournaments
Various Photoshoots
Various Fan Meetups